Food for your Face
Regular price
Rs.2,200.00 PKR
Regular price
Rs.2,500.00 PKR
Sale price
Rs.2,200.00 PKR
Unit price
per
Sale
Sold out
Countless people of the past sought whatever they could to give them a youthful appearance and preserve their natural beauty.
Juan Ponce de Leone set out seeking the fountain of youth. Countless queens and princesses yielded to botanical remedies for their refreshed and glowing skin.
We couldn't get hold of the fountain of youth or source unicorn tears, but we did manage to formulate a beautiful new face oil to give you a little more luxury in pampering yourself.
Introducing Iksir, concocted with some of the most expensive oils available due to their properties and skin rejuvenating ingredients. Intended to work with all skin types.
Consider this your little beauty secret in a vial.
Made with olive squalane, jojoba, Moroccan Argan oil, rice bran oil, vitamin E oil, and essential oils of frankincense, lavender, geranium, patchouli, and clary sage. Each one playa a pivotal role to balance the other.
- boosts collagen production
- renews and regenerates skin cells
- regulates sebum
- tightens skin
- gently restores skin to its blemish free form
- anti inflammatory
- anti septic
- reduces discoloration
- improves blood circulation
- locks the right amount of moisture
- leaves skin baby soft
Please note, every individual's chemical make up and body chemistry is unique, a skin patch test is recommended. We only use pure essential oils.
Available as 18 mL
Ingredients: olive squalane oil, apricot kernel oil, jojoba oil, rice bran oil, Moroccan argan oil, vitamin E oil, frankincense, lavender, geranium patchouli, and clary sage.
#glow #youthful #skincare #MadeinPakistan #handmade #artisan #beauty #natural #argan #jojoba #essentialoils #lavender #geranium #patchouli
Share
View full details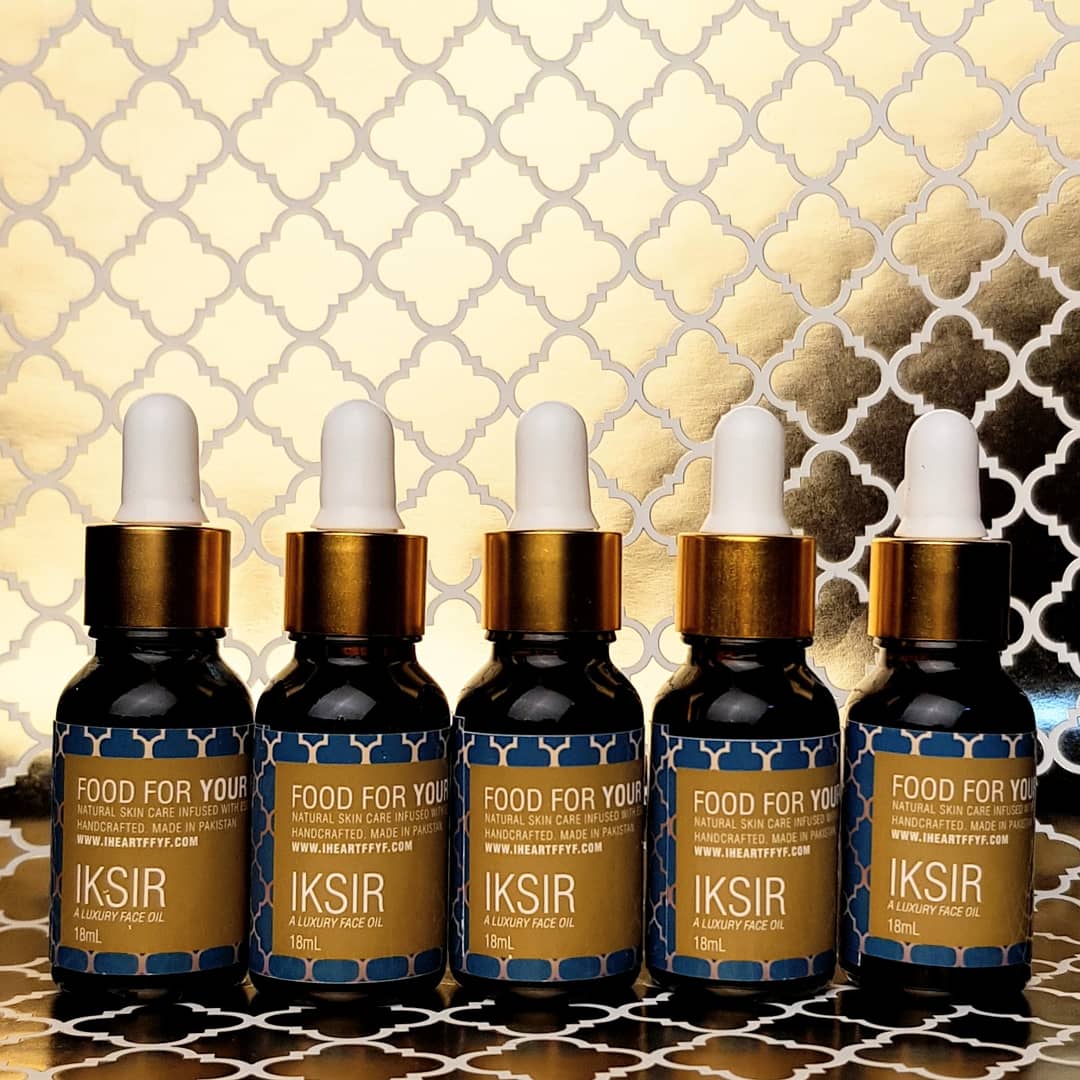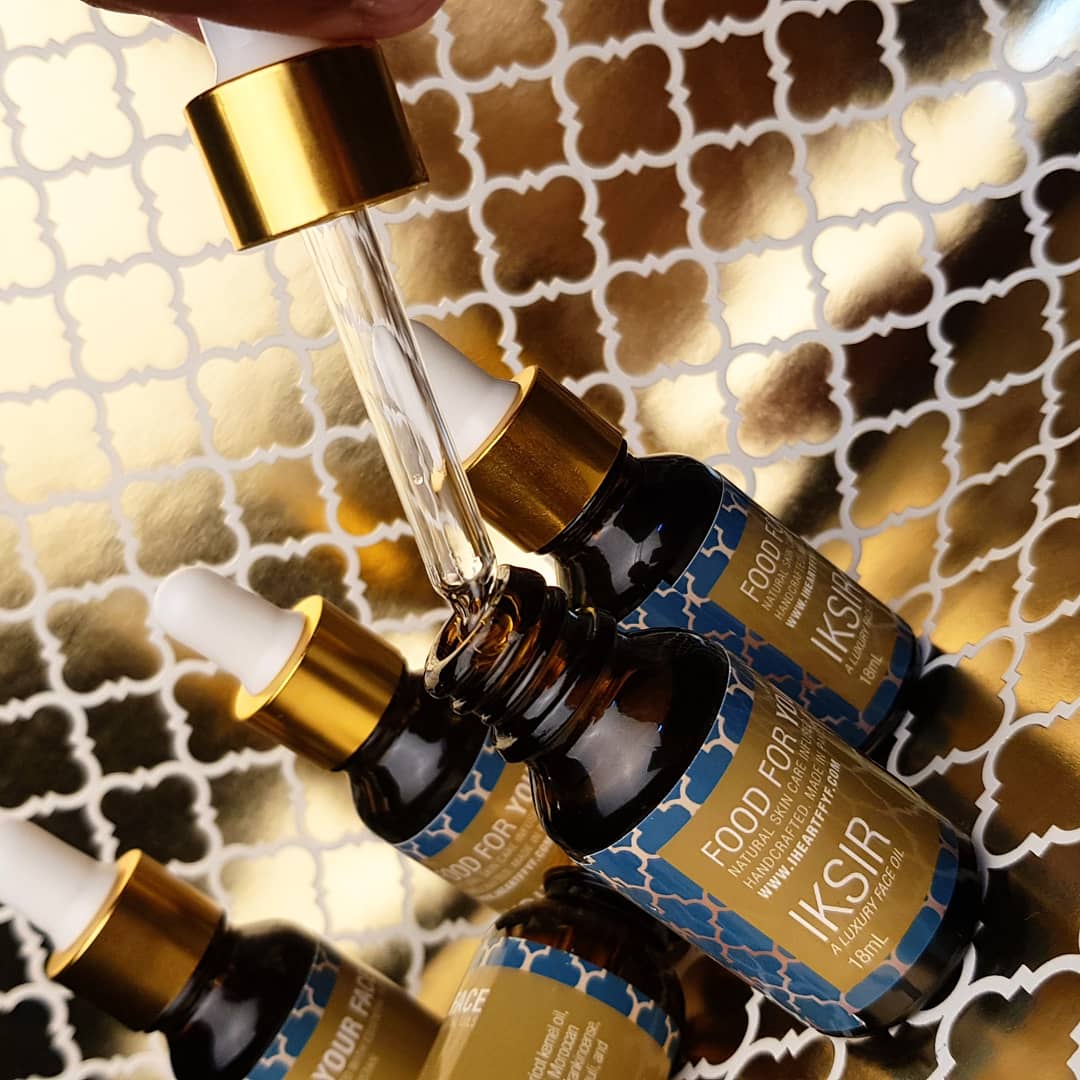 2 weeks into using this and my skin feels so soft and glowey. believe u me just on first application it did it's magic.

The aromaaaaaaa of oils, man, made me love myself. To be honest relaxed me. It absorbs well n skin does not feel oily. I have used serums n facial oils before but always end up fetting acne

But this is magic. Do try it. Especially one with super sensitive skin like mine

I feel same like tinkerbell when i use it on my skin at night😍
Amazing Product
Love love this product. Leaves the skin soft and supple.
I have never been a skin care person - people use to ask whats your skin care routine and I use to say I sleep on time thats it , and they look to me as if I am Dumbo ... anyways after a bit of serious embarrassment I start learning about the skin care product through blogs and videos . One thing I learned for winter care routine was applying oils and serums before bed... I hated oils for skin but this 2019 winter was crazy and I decided to invest on some good moisturisers or oil and the very next day I saw Varah Musavvir post about this oil and she is one of those person I can trust on with products blindly . Its been my second week of using this oil . Iksir is a fast absorbing probably cause of olive Squalane oil which penetrate in skin and it is an excellent natural emollient that smoothes and softens skin , light-weight luxury oil. Ingredients like Moroccan oil make it an excellent moisturizer. It can improve the appearance of dry skin and add glow.
The third m best ingredient is Jojoba oil it reduced the redness , small red marks on my skin and around my cheeks, its also high in vitamin e , but the plus point of this oil is its having extra Vit E to it, which is the best antioxidants and helps in reducing the UV damage..
Its a complete package.
More like choti bottle mien Bara dhamaka!
I've been using this oil since a couple of months. It feels luxurious when you apply on the face, dries super quick & the BEST part is that it doesn't feel heavy or make you sweat in this current humid weather -- its lightweight blend. I stopped using it thinking it might, until I started to use again to see if it works in this weather & I absolutely love it. I was using Physiogel Moisturiser (which is my favorite moisturizer) but even tiny amount felt heavy and made the skin sweat which this one doesn't. I use 2 drops of it after I use The Ordinary Niacinamide. I also used this before under the make up and loved it.