Food for your Face
Regular price
Rs.1,540.00 PKR
Regular price
Rs.1,750.00 PKR
Sale price
Rs.1,540.00 PKR
Unit price
per
Sale
Sold out
Unicorn Tears is as magical as it sounds. Made with a light weight formulation including power ingredients the likes of Hyaluronic Acid and Niacinimide. That's not all, Unicorn Tears packs a mighty punch with other key ingredients which replenish the skin moisture, assist with reducing fine lines, and bring your skin a youthful glow.
Argireline: As the skin ages, it becomes thinner and more susceptible to wrinkles and thinner skin absorbs creams (like argireline) better. ... Those who are looking to treat fine lines, undereye wrinkles, forehead creases and even laugh lines should look to argerline over retinol as it is effective and gentler on the skin.
Blueberry fruit extract and glycerite work on a cellular level to combat skin dullness, dryness, and texture; it softens skin, aids in moisture retention, helps improve the way dead skin cells are shed, and gives a nourishing boost to the new cells that replace them to make skin appear brighter and healthier.
Alpha arbutin, also called Hydroquinone β-D-glucopyranoside, is a naturally occurring antioxidant and skin brightener that is naturally found in the bearberry plant. It reduces melanin formation, improving the appearance of age spots, freckles, melasma, and post-inflammatory pigmentation.
Bearberry Extract, with all its promising compounds, including berberine, which acts as an antioxidant, bearberry extract is probably one of the best anti-aging skincare ingredients out there. It is a natural alternative to hydroquinone and is generally safe for all skin types. Since bearberry extract is equipped with antioxidant, anti-inflammatory, and antibacterial properties, it can help us look fresh, radiant, and ageless. Helps avoid premature aging, keeps wrinkles at bay, evens out the skin and deminshes the dark spots while minimizing the free radicals.
Cucumber extract hydrates and soothes the skin. Its refreshing properties can reduce puffiness and relieves itching, as well as help to ease the redness – for example sunburn.
Ingredients: Distilled Water, Rose Hydrosol, Aloe Vera, Hyaluronic Acid, Niacinamide (B 3) Glycerine and Propendiol 1,3 Alpha Arbutin, Blueberry Glycerite, Rose Glycerite, Argireline a peptide stimulates collagen production, Blueberry Extract, Bearberry Extract for skin lightening, Cucumber Extract, Oils of Bakuchiol, Sweet Almond, Calendula, Coffee, Rosehip Seed, Sea Buckthorn, Grapeseed, Flaxseed.
Gently dab a small amount on the tip of your finger. Apply under the eye and massage into the skin across the face.
1 oz
Share
View full details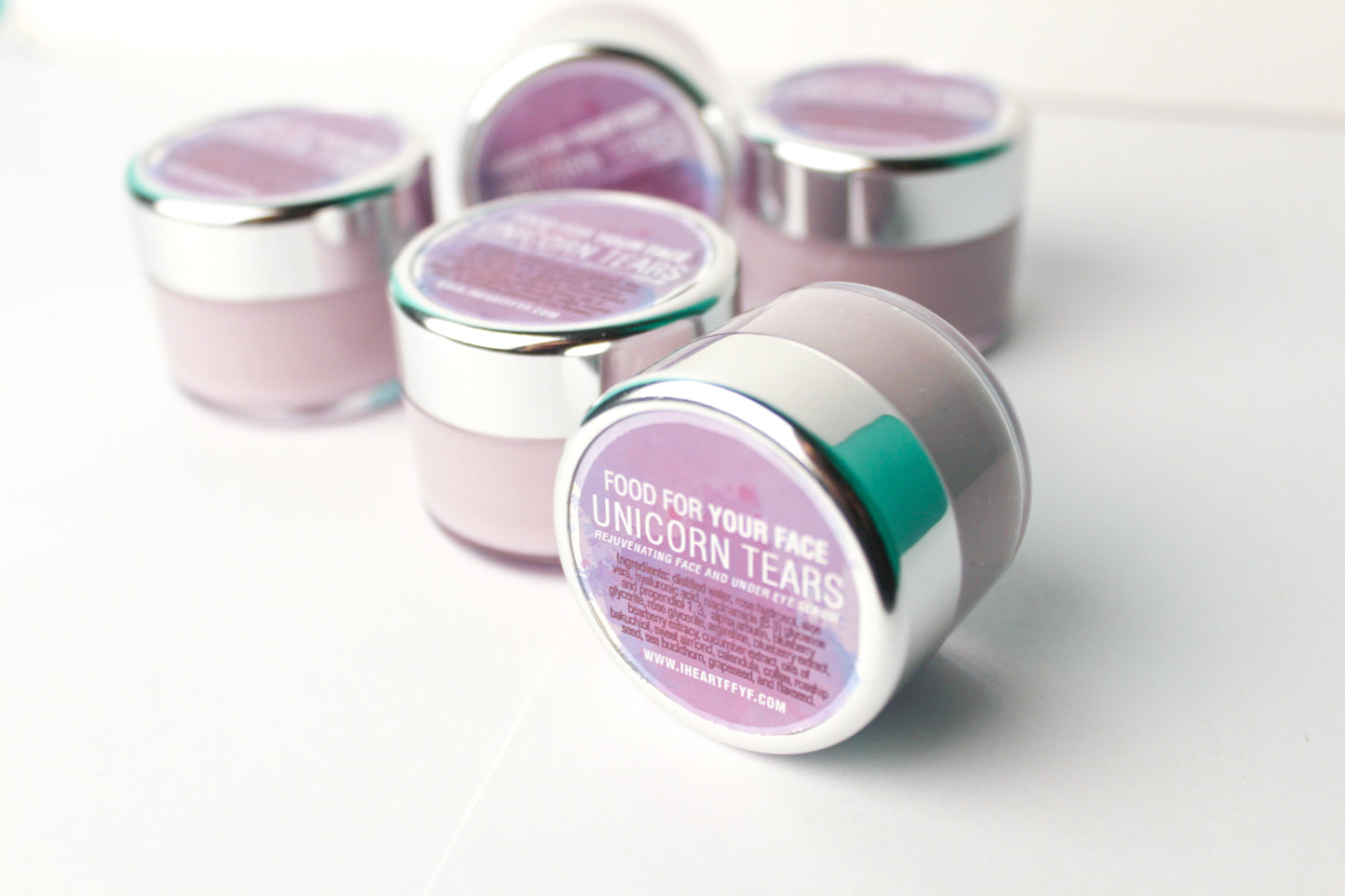 It's worth buying. Due to waxing, I had dark marks under my chin and I can see see the difference. It's a little bit lighened up so hopes are sky high now!
This serum was packs with an amazing ingredients which replenish the skin moisture, reduce fine lines & gives youthful glow to your skin..🤩
This serum is 2 in 1 you can use it both as an eye serum or face serum. This small jar is full of magic which can solve all your skin problems if use religiously 💕..... It claims to revive dull skin, treat wrinkles, anti inflammatory, anti bacterial, hydrating, soothing, helps lighten dark spots, reduce melanin formation, melasma, pigmentation, great moisturizer & great under eye serum 😍
MY EXPERIENCE ✨✨✨
🥀 Ingredients are already mentioned on the packaging.
🥀 Consistency is very light & liquidity & absorbs so well into skin.
🥀 Smell's so good... This small jar goes long way, A pea sized amount is enough for generous application, I'm using it daily since 1 month but still it's not half in quantity yet.
🥀 Works great for all skin types specially for oily skin, doesn't clog pores nor it gives sticky/oily film on the skin.
🥀 It pairs well with every skincare products. You can use it with everything almost.
🥀 It's also a perfect choice for sensitive skin as it's not harsh or strong.
🥀 This serum is very different from other serums & beauty oils I use, you will surely gonna love it as it gives glow in every application.
🥀 This serum works magically, I use it at both AM & PM time but mostly at night when I'm not in a mood to do my skincare, I just apply this serum & it gives all the benefits I want, in the morning I wake-up with smooth & glowy skin...🥰
🥀 It's also a great under eye serum so hydrating & moisturizing...
🥀 I see huge difference in my skin texture, my skin become so smooth & brighten & it's also a great primer makes my foundation smooth & dewy...
IN SHORT ✨✨✨
This has made a perfect place in my Holy Grail products & I'll be surely repurchasing it... I highly recommend this to everyone who is looking for a good moisturizer/serum for everyday use ❤️