Food for your Face
Regular price
Rs.792.00 PKR
Regular price
Rs.900.00 PKR
Sale price
Rs.792.00 PKR
Unit price
per
Sale
Sold out
Unleash powerhouse nutrients to give your skin that glow and restore it back to its truest form. The cleanser is your powdered face wash perfect for daily use. Opt from five different flavors to play with your mood. The cleanser has feel good oils such as bergamot and geranium to aid emotional well being and uplift your mood, all the while working onto your skin with coconut oil, barley, oats, a pinch of turmeric and Mama Firefly's favorite herbs.
Available as:
Briar Rose (great for brides to be with dried Persian rose petals)
Magical Mulberry (for a fruity floral scent)
Dunes of Egypt (laced with patchouli, spearmint, peppermint,  and activated charcoal)
Peppermint Perfect (for especially acne prone skin with a peppermint tingle)
Peachy Keen (that peachy pop for fruity freshness)
All cleansers are intended to:
-remove impurities
-scrub away dirt and dead skin
-aid with pore minimization
-reduce redness / inflammation
-remove tan
-restore skin to youthful glow
-even out skin tone
-combat acne
-tone down blemishes
-control skin moisture
Available in a 135g jar which lasts 4 weeks.
Use half a teaspoon of the mixture with water, rose water or tomato juice til it becomes a creamy consistency, massage onto skin, and rinse. Do NOT apply this as a mask.
This product is free of chemical preservatives. Avoid exposure to heat, moisture and direct light. Can be stored in the fridge.
Share
View full details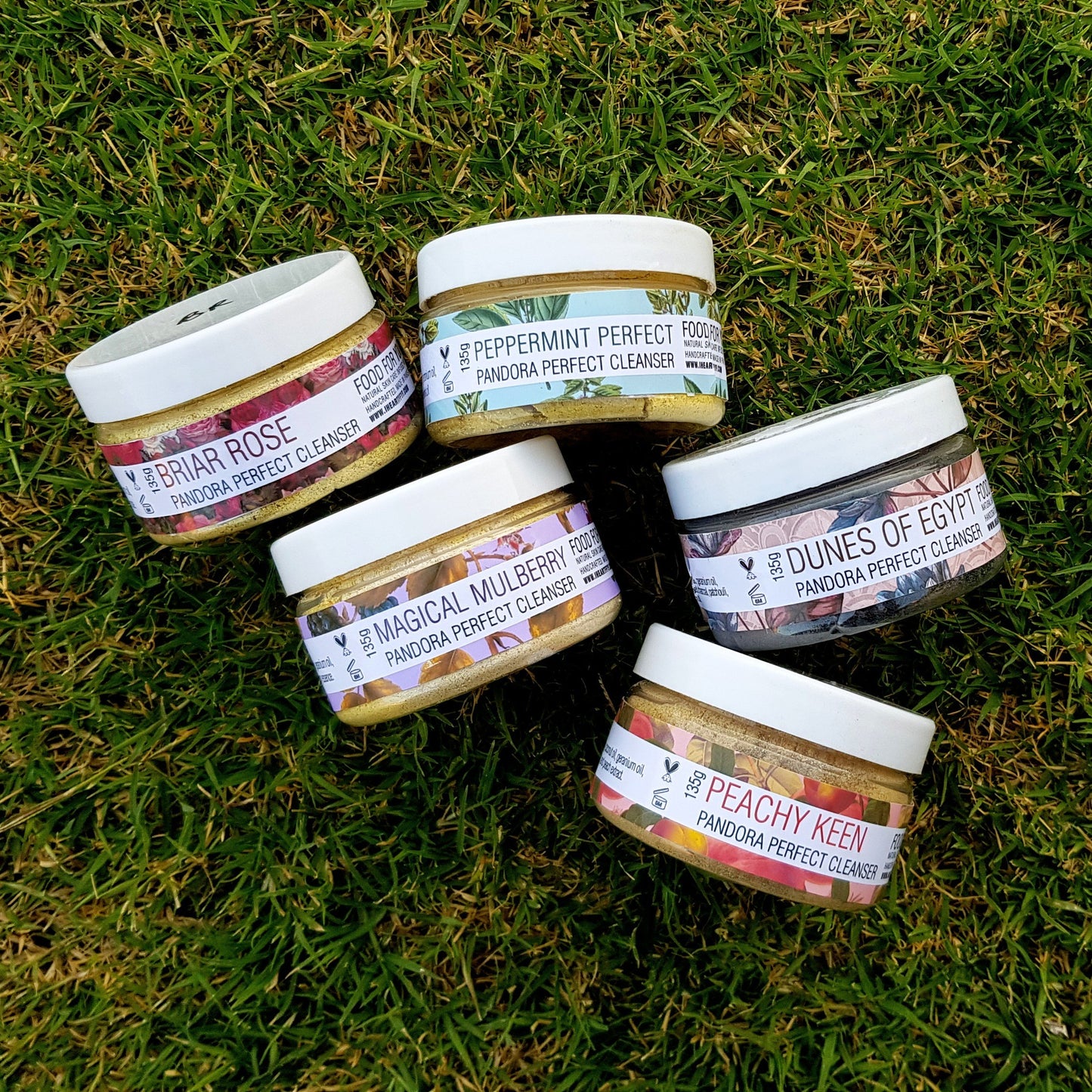 I love Peppermint Perfect!
Especially in summers, it gives super cooling effect. It has helped with my occasional white heads and I had this one dheet acne mark which I have noticed is actually lightening. I add it in few drops of rose water and skin feels totally refreshed and brightened after every wash.
I had a few acne free months after YEARS and that too in this super humid hot season. Its a blessing! It was seriously probably my last try because I had been trying a lot of products with great reviews but was kind of giving up on my skin. I'm so happy I went ahead and ordered it.
I had never given any organic care a try because alot of people launch organic products without any sound knowledge of skin types and their reaction! however I'm not even exaggerating how awesome food for your face products are, clean, beautifully curated and do what they promise! I'm never switching to any products, never stopping, I'm loving my skin. my skin has been fresher, more plump and probably the most glowing these days and all thanks to FFYF! they work like magic, trust me! since it's use I have become super comfortable in my own skin and have been using next to no makeup even at parties. Beautiful bare healthy skin is my goal and FFYF will make you achieve that instantly! this is not a paid review, this is Dil se as honest as it gets. I'm a huge fan now and trust me if you don't give it a try you d be at a loss for neglecting such great skin food in the market.
As posted on Soul Sisters Pakistan
few days back i posted about a major acne crisis, Last time i had that sort of acne, it took my dermatologist a month to fix it. This time i was short on time as i had a wedding to attend, my friend Varah inboxed me and asked me to try Food for your Face by Firefly cleanser and face pack. I must say that it was the best decision of my life to try the product she recommended! those painful pimples were gone within 3 days! yes you heard me THREE DAYS!!! :D it gave an instant glow on my face plus it smelt divine, i could definitely eat that mask. so all of you looking for a quick fix and dont want to spend a zillion bucks at your dermatologist and medicine, do give this girl's products a try! :D for now i am going to order a cleanser which will fix my uneven skin tone! Thank you Varah I'm so glad you inboxed me :D
Peppermint Perfect is just so perfect.
One of my most favorite products of FFYF, you instantly start feeling refreshed right after washing your face with it, it keeps the skin so soft, clean, clear and supple, it also aids in healing pimples and marks.