Food for your Face
Regular price
Rs.1,276.00 PKR
Regular price
Rs.1,450.00 PKR
Sale price
Rs.1,276.00 PKR
Unit price
per
Sale
Sold out
A lot of us love coffee, not realizing how incredibly amazing it is for our skin! Why not check out our 'hottest' pick since its launch... Introducing 'A shot of Espresso'. A coffee and brown sugar face scrub and mask powered by oats. Laced with essence of vanilla, hazelnut and chocolate... This is sure to be a staple to your skincare regime!

Ground Coffee - brightens the skin
- exfoliates and helps remove dead skin cells
- increases collagen - reduces swelling and tightens skin

OatsMask
- anti aging
- packed with anti oxidants
- anti inflammatory

Brown Sugar
- natural humectant, helps maintain moisture
- source of glycolic acid (helps rejuvenate skin with cell regeneration)

So be prepared for a youthful glow, reduced swelling and squeaky clean skin with A Shot of Espresso!
☕

comes in a sleek 2 oz size. Apply it as a mask or scrub, 2 in 1 loving for all skin types.

2 oz

PS. The oats aren't powdered, and may sink to the bottom. Stir up before use. Store in a cool, dry place and keep away from sugar monsters. Not to be consumed orally. 

Ingredients: coffee, oats, brown sugar, vanilla, hazelnut, cocoa powder, cinnamon, Vitamin E, olive oil, sweet almond oil, and lavender oil.
Share
View full details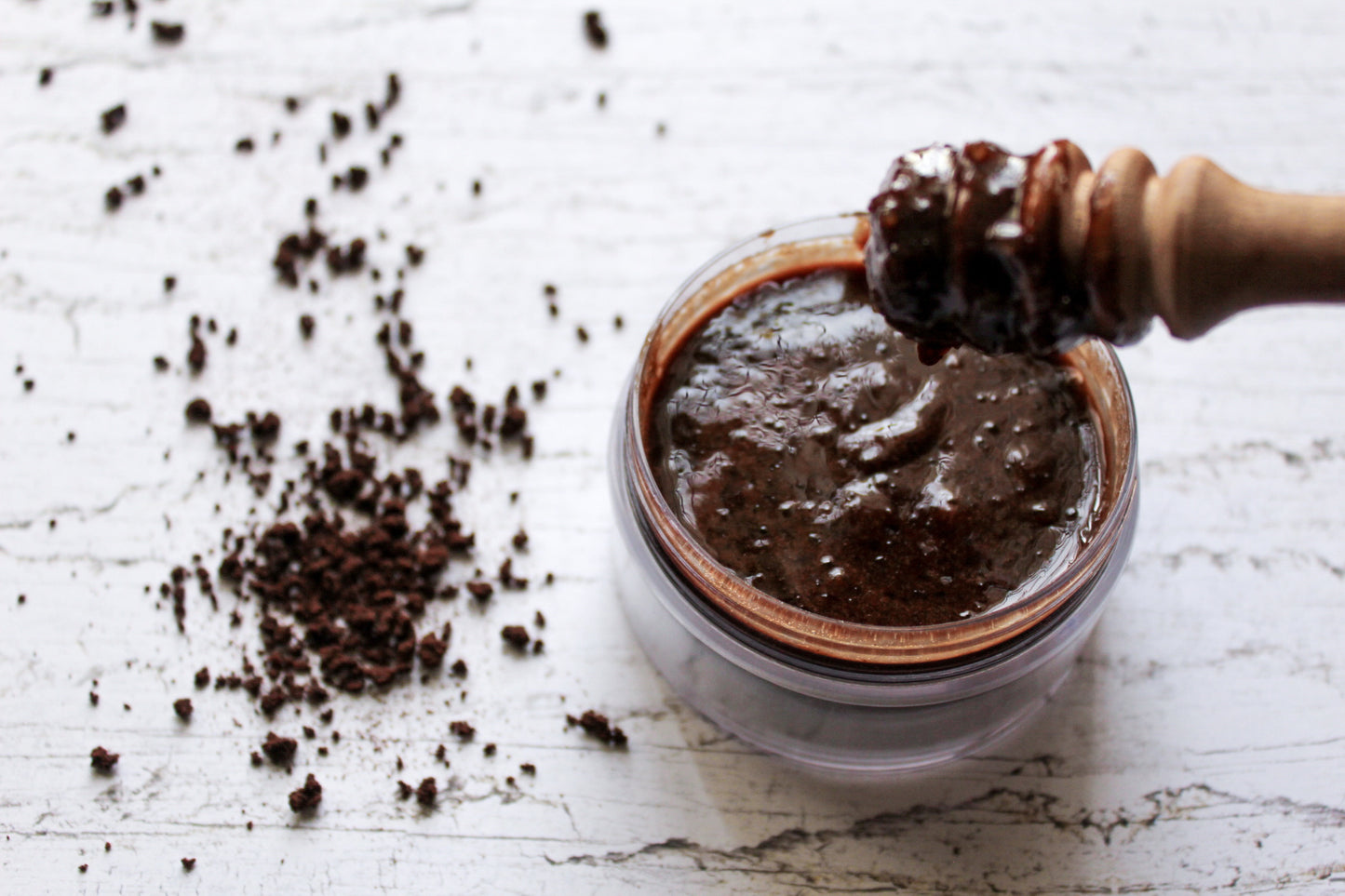 This is amazing.... I am using it and loving my skin after every application... Must must try...
- What a subtle scrub, washes away the makeup and dirt while leaving your skin moiturized.
- Leaves skin plumped and bright.
- The coffee flavour is to die for ..haye!
- The perfect texture and a plus is, it turns into a foam while you scrub.
- A therapy on it's own and works as a mask too.
The name of the mask 'A shot of espresso' pretty much speaks for itself. It is a divine smelling Coffee mask with Oats, Brown Sugar laced w/ Vanilla, Hazelnut and Chocolate. It says on the packaging the added benefits include Cinnamon, Vitamin E, Olive, Sweet Almond and Lavender Oil - The mask left my skin really smooth and soft, considering my skin is pretty sensitive this mask left no redness nor was it itchy!
•
Would I use this product again?
Hell YESS! ☕️
If A person like me who does not bother about beauty regime these days due to extreme busy schedule has stuck to one scrub n mask for more than 2 months means this product is reallyy really something man!
This shot of espresso does not goes in to your cuppa but on your face and believe me you it has instant impact. Atleast it did on my skin which was actually screaming for some facial before. I used it as a scrub and as a mask. Both actions left my skin baby soft and shiny. No acne breakouts no dry skin yayyeee
This home made magical potion has coffee, oats, essential oils and touch of love exclusively by @foodforyourfacepk crafted by mamma @firefly_girl23. Packaging was perfect and sealed to retain the freshness of mixture.
Quantity is something I can vouch for. Thick consistency make it last longer and easy to apply. Definitely recommended and guys they are having some on-going discounted price so go get yoursss!!!
This has become my mandatory weekend treat for my face. I absolutely love it and make sure on every Sunday I apply a shot of espresso 2 in 1 scrub and mask on my face. Not only does it leave my skin fresh and smooth but it also smells amazingly good. I have been trying this for a while now and it actually clears my skin well. Basically the scrub is handmade with magic of coffee, oats, brown sugar laced with vanilla, hazelnut and chocolate with essential oils. You all should definitely give it a try! 🧖🏻‍♀️💁🏻‍♀️