Food for your Face
Regular price
Rs.792.00 PKR
Regular price
Rs.900.00 PKR
Sale price
Rs.792.00 PKR
Unit price
per
Sale
Sold out
A Tangerine Affair will have you falling in love with our orange oil, lemongrass and pomegranate notes for some beautiful skin. Due to the citrus base oil, we recommend this baby for evening use only. Please avoid direct exposure to sun after use. This works well for Brides to Be seeking a youthful glow and treating mild blemishes in evening after a tiring day of wedding preps. Suitable for all skin types.

This Face Pack is intended to:
-clean out blackheads 
-lighten blemishes
-refresh the under eye and lighten dark circles
-calm inflammation or redness
-bring out a youthful glow
-make the skin baby soft
-tighten pores

Using the face pack as a mask (ideally 2 to 3 times a week)
1. Mix a table spoon of the face pack with 3 tablespoons yogurt if skin is oily or milk if the skin is dry (variants also include egg whites / egg yolks, honey or mashed banana)
2. Take a flat paintbrush and layer across your skin evenly
3. Set to dry 15 minutes or so
4. Take a wet sponge and scrub off remnants
5. Look pretty!
Alternatively, you can use it as a scrub with water, rose water or even tomato juice.

Please do a skin patch test prior to diving in and trying the product full force. The ingredients might come off strong for those who have extremely sensitive skin
135 g in a reusable jar.
This product is free of chemical preservatives, empty it in an air tight container. Avoid exposure to heat, moisture and direct light. Can be stored in the fridge.
Ingredients: oats, barley, rice flour, arrowroot powder, neem powder, coconut oil, almond oil, turmeric, vitamin E, geranium oil, and sweet orange oil.
Share
View full details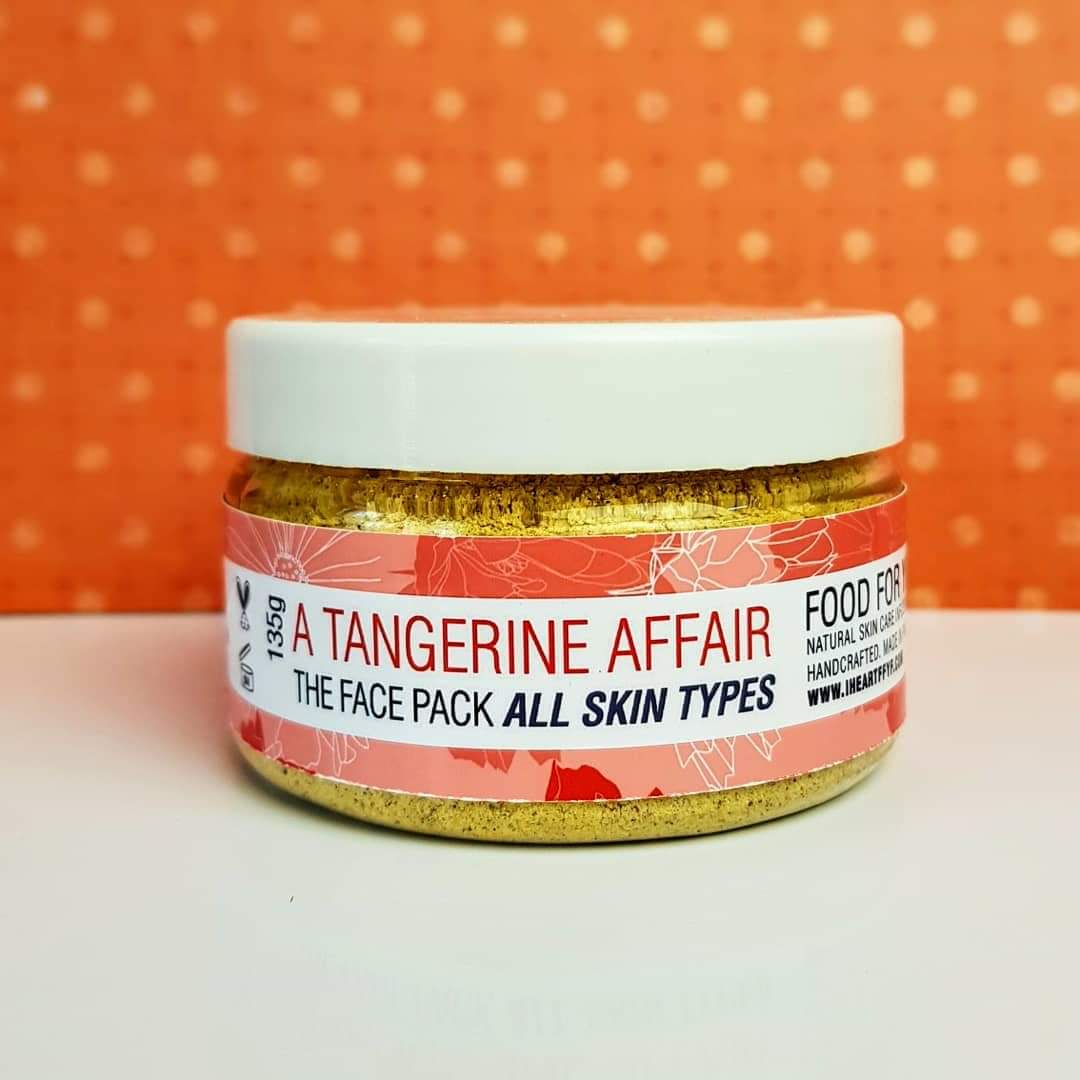 ffyf's one of the best products
5 stars? It's 110/100. This face pack is one of the best products. Bestest face packs although I have tried only 3 yet. I always used it a night before weddings/get togethers, and it did wonders to my face. The way my face glowed next day, can't be described in words.
Ps : everytime I took off this mask, it felt like I'm washing my face with orange juice. Absolutely loved the feeling.
Pss : it even won my mom's heart.
Absolutely love the tangerine affair mask. visible pore reduction with first use.
I've ordered twice from them. Their mint cooler mask and tangerine affair are amazing beyond words. The cooling sensation of mint cooler is super awesome. And i love how my skin feels after ittt .. its crazy soft??? they'll always be my go to face mask/scrubs/cleansers place ?