Food for your Face
Regular price
Rs.792.00 PKR
Regular price
Rs.900.00 PKR
Sale price
Rs.792.00 PKR
Unit price
per
Sale
Sold out
Go back to times of Cleopatra, take in her enthralling beauty and reminisce how oily skin was combated in grueling heat. From Cleo with Love is your power house in a packet to tame oily skin which in excess can lead to troublesome acne and discomfort.

The popular barley and oat base, bergamot and geranium essential oils paired with eucalyptus oil, petit grain and ylang ylang. The touch of turmeric helps bring out the glow and targets impurities to reveal healthier looking skin.

Intended for oily skin.

In addition to combating excess oil, this face pack is intended to:
-clean out blackheads 
-lighten blemishes
-refresh the under eye and lighten dark circles
-calm inflammation or redness
-bring out a youthful glow
-make the skin baby soft
-tighten pores
-lighten hyper pigmentation

Using the face pack as a mask (ideally 2 to 3 times a week)
1. Mix a table spoon of the face pack with 3 tablespoons yogurt if skin is oily (variants also include egg whites or mashed banana)
2. Take a flat paintbrush and layer across your skin evenly
3. Set to dry 15 minutes or so
4. Take a wet sponge and scrub off remnants
5. Look pretty!
Alternatively, you can use it as a scrub with water, rose water or even tomato juice.

Please do a skin patch test prior to diving in and trying the product full force. The ingredients might come off strong for those who have extremely sensitive skin
135 g in a reusable jar.
This product is free of chemical preservatives, empty it in an air tight container. Avoid exposure to heat, moisture and direct light. Can be stored in the fridge.
Ingredients: oats, barley, rice flour, arrowroot powder, neem powder, coconut oil, almond oil, turmeric, vitamin E, cinammon powder, sandalwood powder, fuller's earth, geranium oil, ylang ylang oil, and tea tree oil.
Share
View full details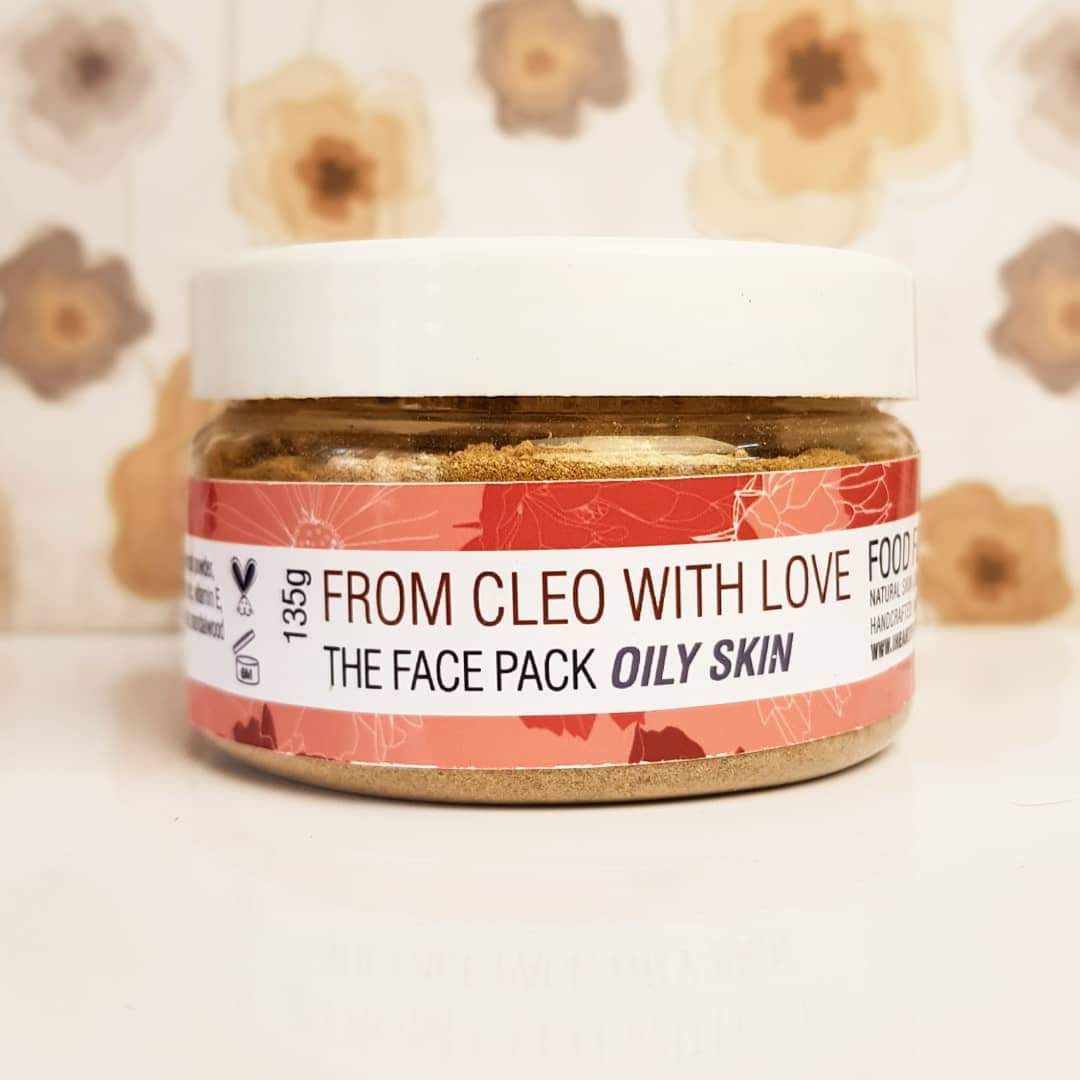 Giving my skin some much needed pampering with @foodforyourfacepk #facepack in 'from Cleo with Love'. I read somewhere that the results were better with Honey which is an awesome natural ingredient on its own as well. So thought I'd try it out too. This is my third repurchase of this face pack. Needless to say, I LOVE IT!
I have tried their From Cleo with Love mask, it's meant for oily skin and it did help in unclogging my pores. The thing is, they're no miracle products but pretty good ones. Be consistent and it may surprise you. I know, I'll order again.
My skincare regime mostly consists of products that are natural and chemical-free, after reading many positive reviews of Food for your Face, I decided to order their Magical Mulberry cleanser, From Cleo with Love face pack (which is a must have for oily skin like mine) and the Terrific Toner, I have to admit that I have fallen in love at first sight 😍 My skin has never looked or even felt better! It feels more refreshed and smooth with each use! And the smell is just absolute love, I have kept them in my cupboard and trust me each time I open it I can smell the scent coming out