Food for your Face
Regular price
Rs.1,452.00 PKR
Regular price
Rs.1,650.00 PKR
Sale price
Rs.1,452.00 PKR
Unit price
per
Sale
Sold out
Activated Charcoal is THE key ingredien, with its incredible properties to purify the skin from toxins and acne causing agents, it works brilliantly to rid your skin of break outs and blemishes.

What happens when you mix activated charcoal from shells of coconut and then whip out Gray Matter?

Use it as a mask for 7 to 10 minutes to:
- clean out the pores and remove black heads
- tighten the skin
- improve skin tone and repair sun damage
- reduce pigmentation 
- give a visibly neater and brighter skin tone 

Gray Matter is now available in dry form infused with amazing essential oils that nourish the skin and repair damage caused by excess sun, pollutants and toxins. These oils include patchouli, lavender, lemon, tea tree in addition to Vitamin E. There is also Saffron oil working deep to unravel incredible results.

Bentonite and Kaolin clay work to rejuvenate your skin without over-drying it by nourishing it with minerals while drawing out impurities. Amplified results, with charcoal powder.

Gray Matter comes in a chic 80g size for spa time once a week.

Apply using a craft stick evenly across cleansed skin (no make up)
Allow to dry, when slightly damp, take a wet sponge and remove mask. You do not need the mask to dry out fully. Apply 7-10 minutes if you have dry skin, Apply 12-15 minutes if you have oily skin. Avoid use in mornings, best to apply in the evening when exposure to direct sun light is less.
We recommend using heated water to activate the clay, and apply the mixture once temperature cools.
Must be stored in a cool, dry place.
Ingredients: bentonite clay, kaolin clay, activated charcoal, saffron oil, glycerin, sodium lactate, patchouli oil, lavender oil, tea tree oil, lemon oil, Vitamin E, dried herbs, and dried Persian rose petals
Share
View full details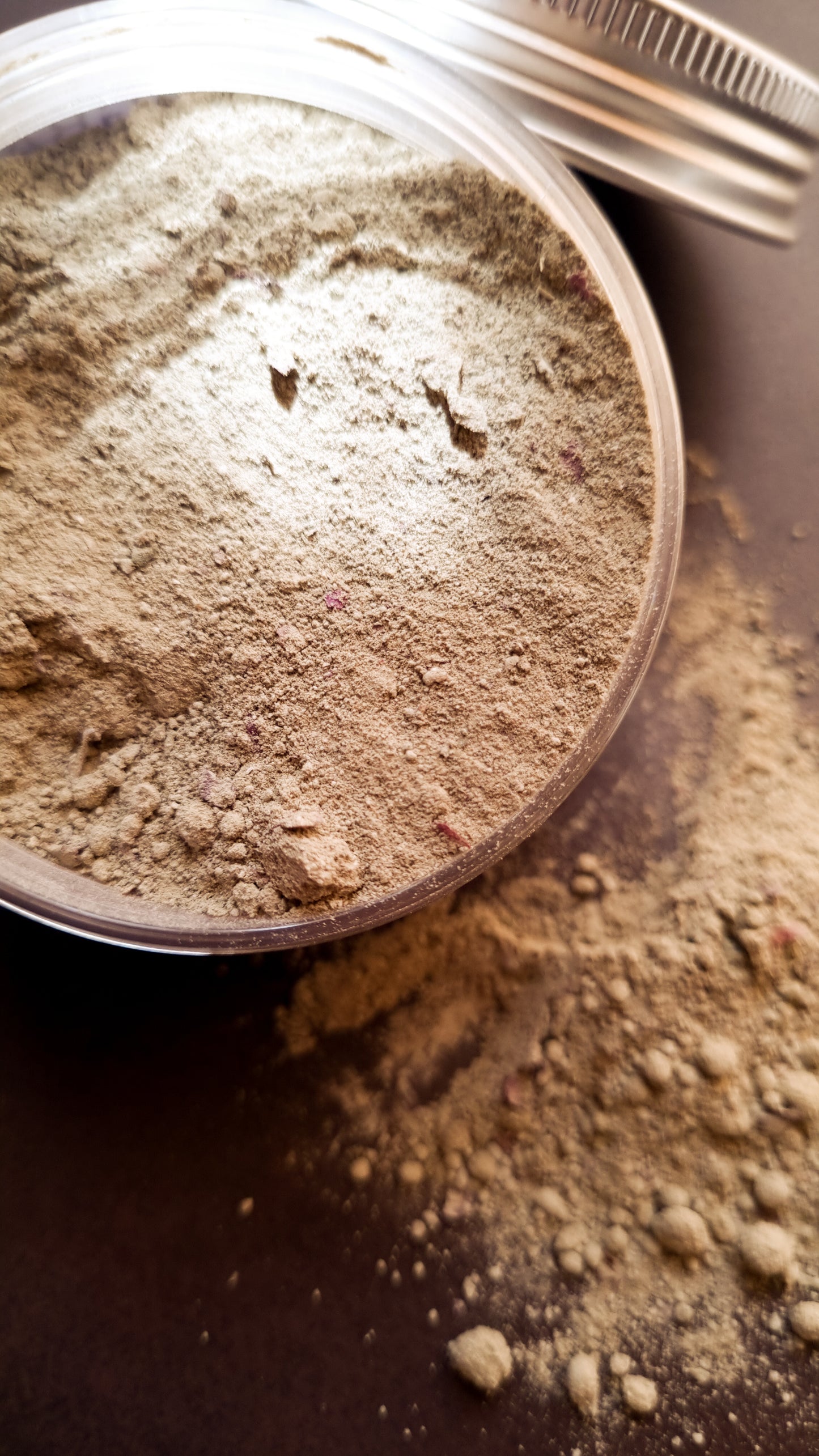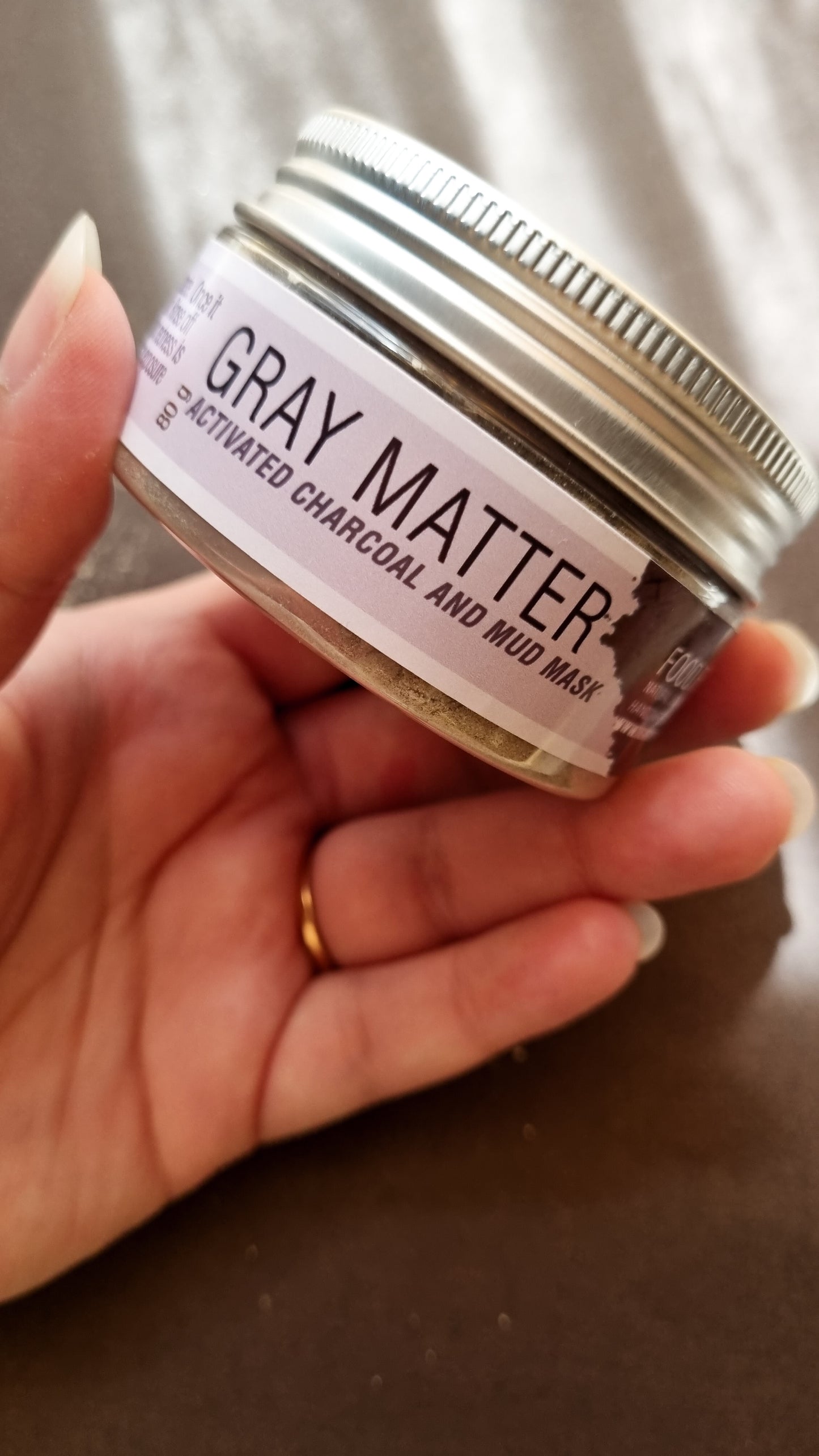 So basically I ordered this when I had my exams going on,skin was in the worst of shades. This has activated charcoal,bentonite clay,essential oils with Vitamin E which is an important factor in maintaining healthy skin.
So when I first applied it I felt my skin was soft and with 3-4 applications my blackheads reduced visibly. However it didn't help me with my acne probably because my skin is not in good terms with lemon and this has lemon oil but definitely mineralizes,hydrates and purifies your skin. Also for my mum,it worked amazingly. With just one application we could see her skin tightened and glowing.
So one product maybe good for someone and not for you and that is why you need to know your skin type and what ingredients suit you before ordering anything.
I used grey matter! Loved it. All their products are amazing. Highly recommended!
I ordered grey matter a few weeks ago. Initially, the results weren't visible and I thought I made a mistake by trying out FYFF. However, Varah went out of the way and helped me to use it in a certain way to see best results. She was so sweet that even if the mask didn't do wonders after following her instructions (which it did so yayyy), I'd have still recommended FFYF! What I have learned from my experience over time is that we all have different skin types, hormonal changes, diets, stress levels, etc and that even an excellent skincare product, with the best reviews, doesn't have to work well for everyone. I am glad I got introduced to FYFF not just because of the products themselves, but also because of the exceptional customer service provided by Varah. She does go out of the way to make you happy.
I am definitely ordering from FYFF again! More power and love to you, Varah.
-xoxo
I wanted to try a charcoal mask from so long but the peel off one's seems a little creepy to me. So I got this one. It dries too late and need patience to leave it but once you wash your face it perfectly worths the wait. Loved it completely too.
I just loved the charcoal and mud mask. Results were so good. This is going to be my every month product. My skin looks fresh, clean and super smooth. Simply love it. Thanks a lot for amazing products and a very good customer service.