Food for your Face
Regular price
Rs.792.00 PKR
Regular price
Rs.900.00 PKR
Sale price
Rs.792.00 PKR
Unit price
per
Sale
Sold out
The Mint Cooler has been our best seller since our first launch. The magic ingredient is the peppermint oil with hint of patchouli.  It's imperative to understand that peppermint tingles slightly because it is working to repair your skin. It is milder than tea tree oil and doesn't sting as tea tree does. Tea tree is also a tad bit drying so those with dry skin should opt for rosemary or peppermint. Peppermint also helps in secreting oils which help keep blemishes at bay.

The Face Pack is effective to:
-clean out blackheads 
-lighten blemishes
-refresh the under eye and lighten dark circles
-calm inflammation or redness
-bring out a youthful glow
-make the skin baby soft
-tighten pores
-combat acne

Peppermint oil, like Bergomot, Geranium and Patchouli is a feel good oil. It uplifts your mood and invokes a happy feeling. Peppermint oil is an antiseptic so the redness and breakouts that could have been are zapped with it. This is also a reason for its tingling sensation (the menthol effect). Peppermint Oil is comprised of iron, calcium, potassium, magnesium, Vitamin A & C in addition to Omega 3 fatty acids. So literally, this is all Food for your Face

Using the Mint Cooler Face Mask (ideally 2 to 3 times a week)
1. Mix a table spoon of the mint cooler with 3 tablespoons of milk.
2. Take a flat paintbrush and layer across your skin evenly
3. Set to dry 15 minutes or so
4. Take a wet sponge and scrub off remnants
5. Look pretty!

Please do a skin patch test prior to diving in and trying the product full force. This is our best seller, but if you do not like peppermint or have highly sensitive skin, please avoid use.
135 g in a reusable jar.
This product is free of chemical preservatives, empty it in an air tight container. Avoid exposure to heat, moisture and direct light. Can be stored in the fridge.
Ingredients: oats, barley, rice flour, arrowroot powder, neem powder, coconut oil, almond oil, turmeric, vitamin E, geranium oil, and peppermint oil.
Share
View full details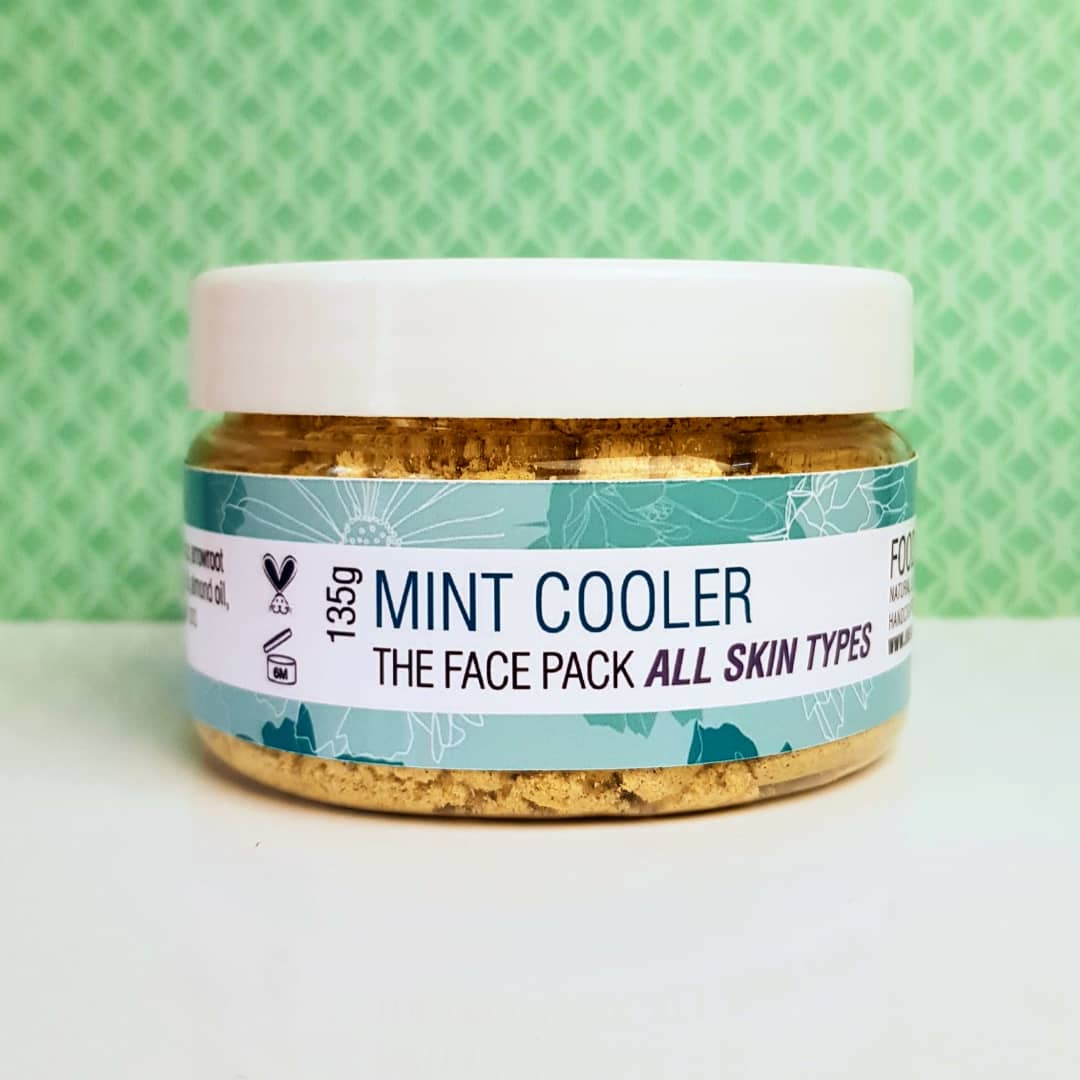 Best after threading
When I first bought this, I wasn't sure if I made the right decision. However, using it a day after threading, it repaired my red and bumpy skin like I casted some spell.
*For me, it works the best after waxing / threading*
Adding a tad bit of yogurt in the mixture does wonders, too.
🍀I swear nothing can be refreshing then this mint cooler face mask.
🍀The key ingredient is the peppermint oil which is to refresh the skin,fights against acne, blemishes ,breakouts.
🍀It tingles a bit at first because of the peppermint but then it works great👍 .
☘️Even after the rinse the cooling❄️ effect longed till a good time tho.
☘️You people gotta love it in this scorching weather🥵 because mama and I are using it twice a week and enjoying its cooling yet refreshing feel❄️.
This face pack can do wonders to your skin. My skin felt instantly cooled, woke me up and cleansed.
#selfcare

I am a soap and water person and will literally use Lifebuoy if I have to. Never cared about my skin because thankfully I always had a very low maintenance easy care one. No breakouts, no patches, perfectly balanced. But while turning old of course makes me MORE awesome than ever (aging wine and all) it affected my skin. Its dull and I got dry patches and there are fine lines forming around the eyes.

This is where Food for Your Face comes in as the savior. Been a fan of the Peppermint facemask for a while now. I use it with plain water and love how it makes my skin tingle and then later on leaves it clean and fresh. I leave it on for about 5 minutes and then scrub it off with water.
I started using ffyfs mint cooler and its been doing miracles on my face.
I have an acne oily skin with lots of acne scars and this is helping me a lot with reducing my scars. I use it once a week and since the past three weeks, I have seen a vast improvement... along with that the smellll is soooo amazing.
The mint cooler feels so goood on ur face and your skin feels like it is super extra clean