Food for your Face
Regular price
Rs.792.00 PKR
Regular price
Rs.900.00 PKR
Sale price
Rs.792.00 PKR
Unit price
per
Sale
Sold out
With aromatic infusions of vetiver, cypress, and cedar wood oils in our barley and oat base... escape to novice musings and give your skin some down time. Rumi's Notes is a face pack for mature and aging skin. It assists with reducing hyper pigmentation, rejuvenates the skin by reducing wrinkles and helps with over all blemish control. Also contains sandalwood, turmeric and a hint of cinnamon, making use of traditional remedies to beautify skin.

This Face Pack is intended to:
-clean out blackheads 
-lighten blemishes
-refresh the under eye and lighten dark circles
-calm inflammation or redness
-bring out a youthful glow
-make the skin baby soft
-tighten pores
-reduce fine lines / wrinkles
-lighten hyper pigmentation

Using the face pack as a mask (ideally 2 to 3 times a week)
1. Mix a table spoon of the face pack with 3 tablespoons yogurt if skin is oily or milk if the skin is dry (variants also include egg whites / egg yolks, honey or mashed banana)
2. Take a flat paintbrush and layer across your skin evenly
3. Set to dry 15 minutes or so
4. Take a wet sponge and scrub off remnants
5. Look pretty!
Alternatively, you can use it as a scrub with water, rose water or even tomato juice. This face pack may be a bit drying.

Please do a skin patch test prior to diving in and trying the product full force. The ingredients might come off strong for those who have extremely sensitive skin
135 g in a reusable jar.
This product is free of chemical preservatives, empty it in an air tight container. Avoid exposure to heat, moisture and direct light. Can be stored in the fridge.
Ingredients: oats, barley, rice flour, arrowroot powder, neem powder, coconut oil, almond oil, turmeric, vitamin E, geranium oil, patchouli oil, cinnamon powder, sandalwood powder, and fuller's earth.
Share
View full details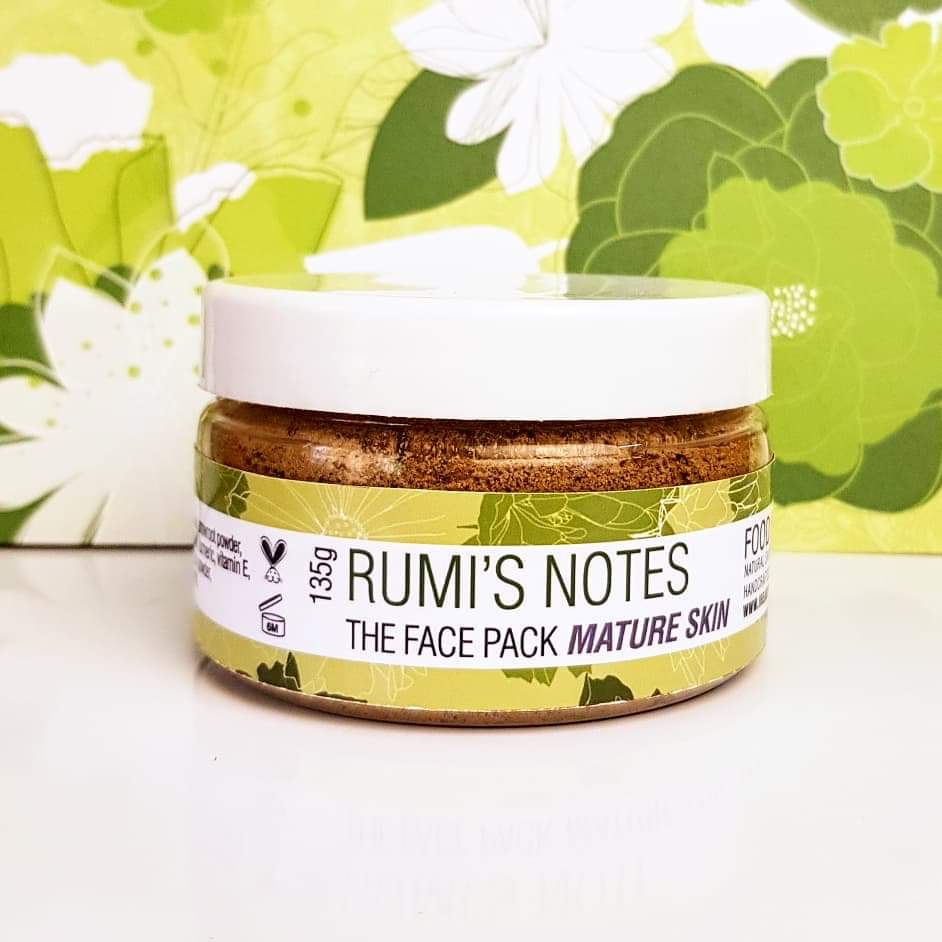 Hi everyone! 😀 just a quick help with a quick review for an effective facepack by the one and only Food for your Face by Firefly ! All those ladies suffering from hyperpigmentation or melasma, those with mature sagging and aging skin, all you need is RUMI'S NOTES from their range of FIXER UPPER FACEPACKS. Very effective. Very easy to apply. Results are great! Price is worth the quality. Smells great! Happily handmade in Pakistan! Get it for yourself or for your mum or anyone who's in need ☺
P.s. Everyone's skin type is different and every skin reacts differently to different products. What suits one may not suit another. Talk to them directly through the inbox and share your concerns for better guidance. This is unpaid and based on personal experience. Thank you.
The mask is rock solid. Like a hard core one! And since am a glam glow lover I loved the feeling of it when I took it off. Can't say much but am sure that my skin is going to love it because since am turning 31 my skin is getting super weird and sensitive but this didn't break me out nor I had any reactions what so ever and these days my skin is irritated pretty quickly.
Varah Musavvir please thank mama firefly for creating these amazing face packs.
Stress at work and long commute to work effects my skin so bad.
I have used Rumi' s notes a couple of times and sweet cherry pie once and the results are absolutely wonderful.
Its like someone has put a blur filter on my skin - bright complexion and minimized pores.
My mum tried Rumi's notes and she loved the results too.
I used it mixed with honey and absolutely luved the results.