Food for your Face
Regular price
Rs.792.00 PKR
Regular price
Rs.900.00 PKR
Sale price
Rs.792.00 PKR
Unit price
per
Sale
Sold out
If you're seeking a solution for healthier looking skin, a youthful glow and bye bye blemishes, our face packs are your go to product. Sweet Cherry Pie is intended for dry and sensitive skin as a mask or scrub three times a week.
Sweet Cherry Pie is reminiscent of crisp cherry pie with a hint of almond. The barley and oat base works as a skin restorer and reduces inflammation, evens out skin tone and improves signs of pigmentation. The rosemary oil targets acne, replenishes moisture and keeps the skin refreshed.
This Face Pack is intended to:
-clean out blackheads 
-lighten blemishes
-refresh the under eye and lighten dark circles
-calm inflammation or redness
-bring out a youthful glow
-make the skin baby soft
-tighten pores
-hydrate skin
Sweet Cherry Pie has been helpful to those suffering from dermatitis or rosacea.

Using the face pack as a mask (ideally 2 to 3 times a week)
1. Mix a table spoon of the face pack with 3 tablespoons of milk if the skin is dry (variants also include yolks, honey or mashed banana)
2. Take a flat paintbrush and layer across your skin evenly
3. Set to dry 15 minutes or so
4. Take a wet sponge and scrub off remnants
5. Look pretty!
Alternatively, you can use it as a scrub with water, rose water or even tomato juice.

Please do a skin patch test prior to diving in and trying the product full force. The ingredients might come off strong for those who have extremely sensitive skin
135 g in a reusable jar.
This product is free of chemical preservatives, empty it in an air tight container. Avoid exposure to heat, moisture and direct light. Can be stored in the fridge.
Ingredients: oats, barley, rice flour, arrowroot powder, neem powder, coconut oil, almond oil, turmeric, vitamin E, geranium oil, rosemary oil, and cherry essence.
Share
View full details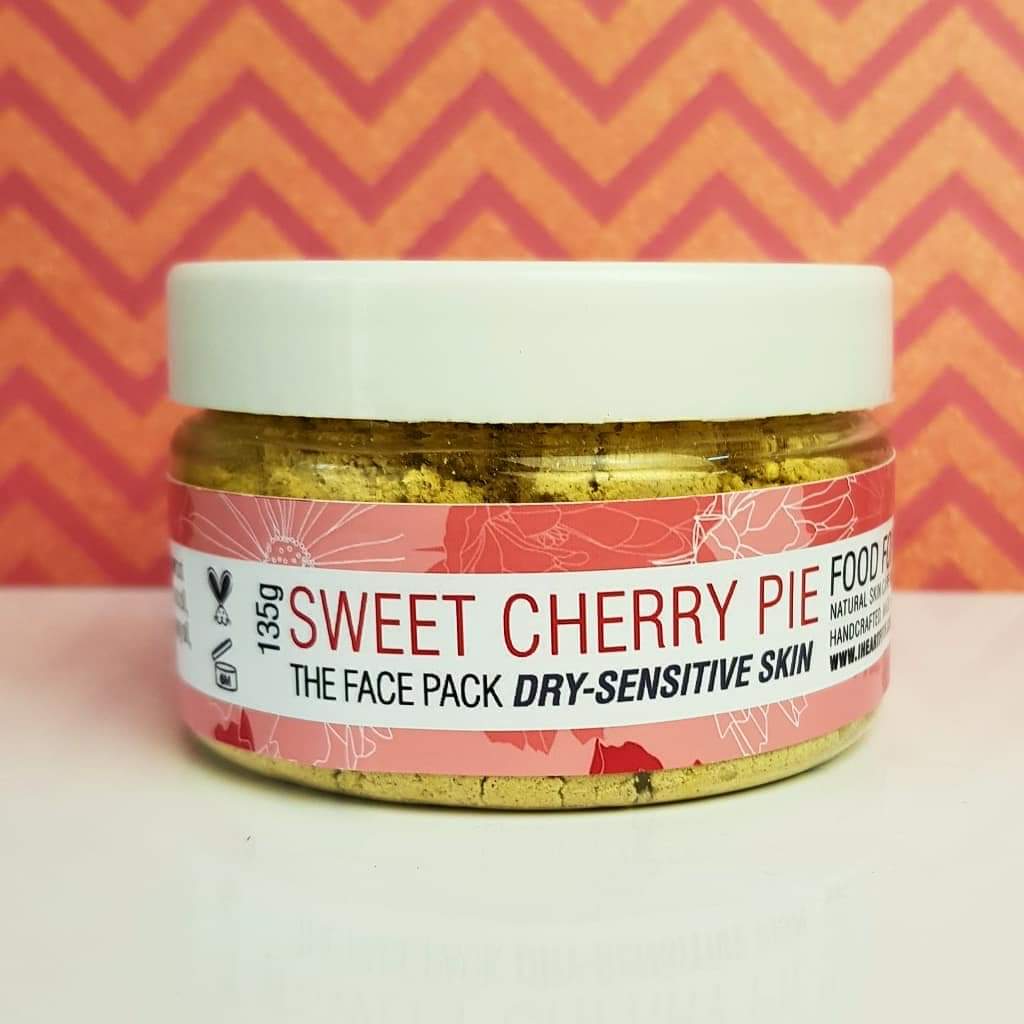 I'm loving this face mask
The Sweet Cherry Face Pack also comes in a powder form like the cleanser. This one is a little too scented for my liking but it really softens my skin
Totally in love with the 'Sweet Cherry Pie' face pack! I was in dire need of a natural hydrating face product that actually works for my dry and sensitive skin (in winters). Thankfully I found one here! ?
I used it as a scrub (can be used as a mask too) and I must say that it's soooo mild and gentle that I didn't feel any harshness whatsoever! The best part - It smells divine!! ? My skin instantly felt soft and supple, and remained hydrated the whole day! No more dry patches or flakiness. *happy dance* ?
Can't thank you enough Varah! Keep up the good work! Thank you once again for suggesting the best for me!? My face is a happy customer! Lol ?
As posted on Sheops
A heartfelt review for Food for your Face by Firefly. Tried their face pack 'Sweet Cherry Pie' as a face mask mixed with organic honey and rose water, and head-over-heels in love with it!
Having very sensitive skin that reacts even to organic and herbal products, I'm not very open to the idea of trying new products on my face. But this was a very pleasant surprise! My skin felt baby soft and very fresh just after the first use! Ofcourse the freckles and pigmentation is as it is but I'm definitely trying their cleanser and will continue using this pack.